The Possibilities of Product Collections
Published by Ashley Wilson on September 8, 2023
Product Collections, or a saved list of products, can provide fantastic benefits for your buyers that lead to a more engaging experience for them and more sales for you.  Allowing your buyers to save a list of products in a Product Collection can: 
Keep products top-of-mind so buyers don't forget items they need. 

Save time for your buyers; they can find what they need right away. 

Assist your buyers with more involved shopping projects that may take some planning before they purchase. 

Encourage your buyers to recruit their peers to shop your site by sharing their saved list. 
Your business can also get insights into what products your shoppers are looking for and saving.  Use these insights to generate marketing campaigns to remind buyers what they have saved or pair with Sitecore Discover to further understand buyer preferences and provide them with a more relevant shopping experience. 
Let's review a handful of different use cases that can be accomplished using Product Collections. 
Private lists: Favorites, Save for Later, or Custom lists 
Let's start with the basics: Allow an authenticated shopper to create their own Product Collection so a list of products is saved to their account.  
Prompt a shopper to add unwanted products to a "Save for Later" list instead of deleting the product from their cart. 

Offer a heart or star button on product cards so that shoppers can quickly save products they purchase frequently or just really love into a "Favorites" list. 

Give a shopper the option to create their own list and name it however they like.  Perhaps a shopper is furnishing a new room in their house.  They can name the Product Collection "Game Room" and add many products they think would be great for their new space.  This allows them to revisit what they've found when the time is right and purchase the items that they need.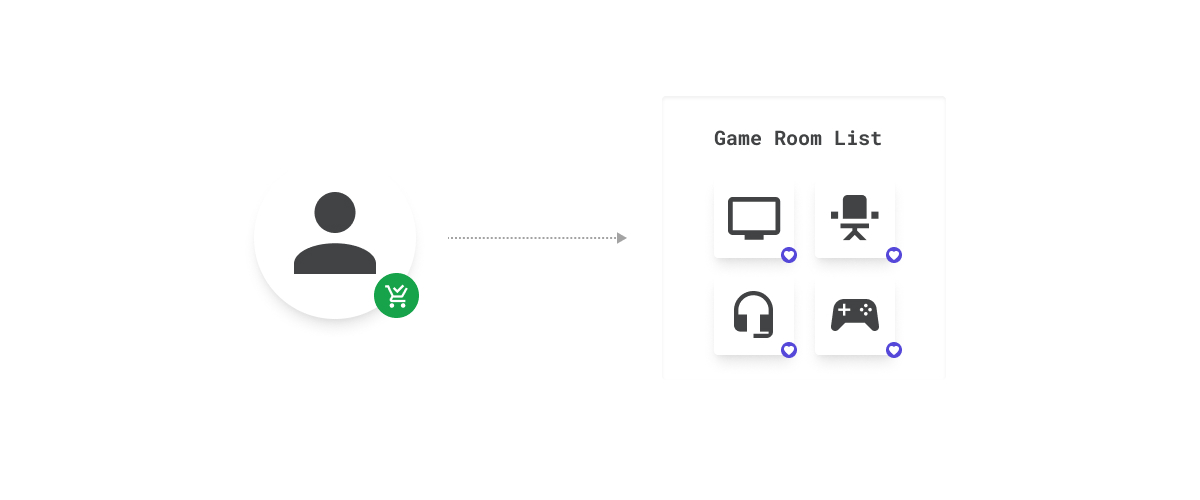 Privately shared Wishlists 
A buyer can take any of the Product Collections they create and share them with a friend or family member. Consider building a joint grocery list that you want others in your household to add to, or you and your partner create a joint Holiday wish list to add items you both hope for this season. 
The Product Collection property for AccessLevel allows for list sharing.  When a Product Collection is created with AccessLevel:Private, the shopper who created this list has access to it by default, but they can also directly invite other Users within their Buyer to view it too.  
Invite a User with Admin:False to allow the invited user to view your list. 

Invite a User with Admin:True to allow the invited user to view and edit your list (add or delete products, rename the list, or invite others to the list). 
Even though the Product Collection has AccessLevel:Private, since it's been shared, others can see the list – but by invite only.  The invited user must accept the invitation to access the Product Collection.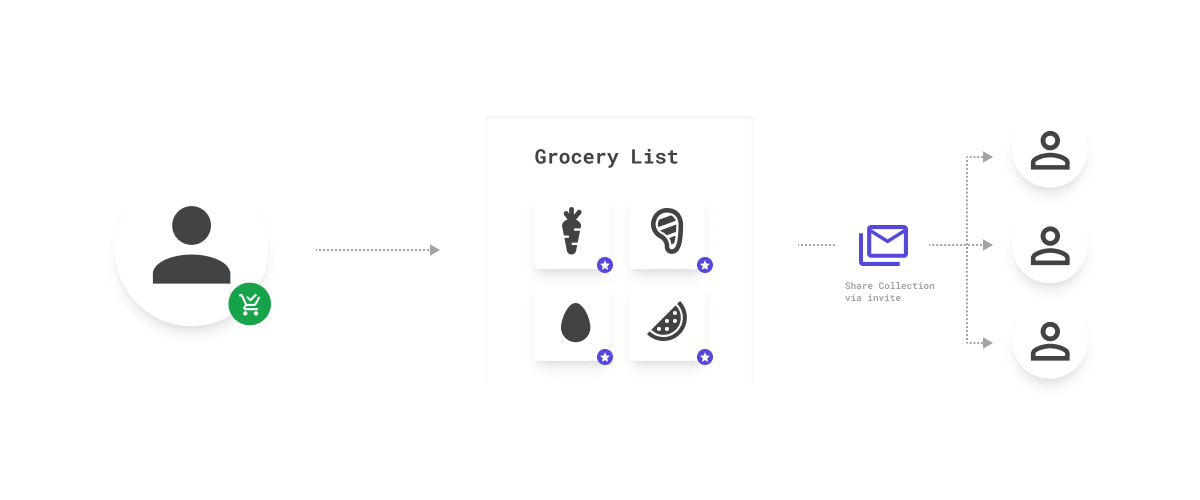 Shareable Wishlists 
Instead of sending individual invites to grant viewing access of your wishlist, you can instead create your Product Collection with AccessLevel:Shareable and share a Product Collection link for all to view.  For example, as an elementary school teacher, I want to send a list out to all my students' families requesting a few items to contribute to our classroom.  In my "Welcome to my Classroom" email, I share my wishlist link containing the ID of my Product Collection: 
https://www.yourwebsitehere.com/productcollection/view/2dcf59c0-6cca-11ec-b7a2-a7c693c3c9 
Families can now view my list and purchase as they see fit.  I didn't have to invite each family individually to my shareable Product Collection.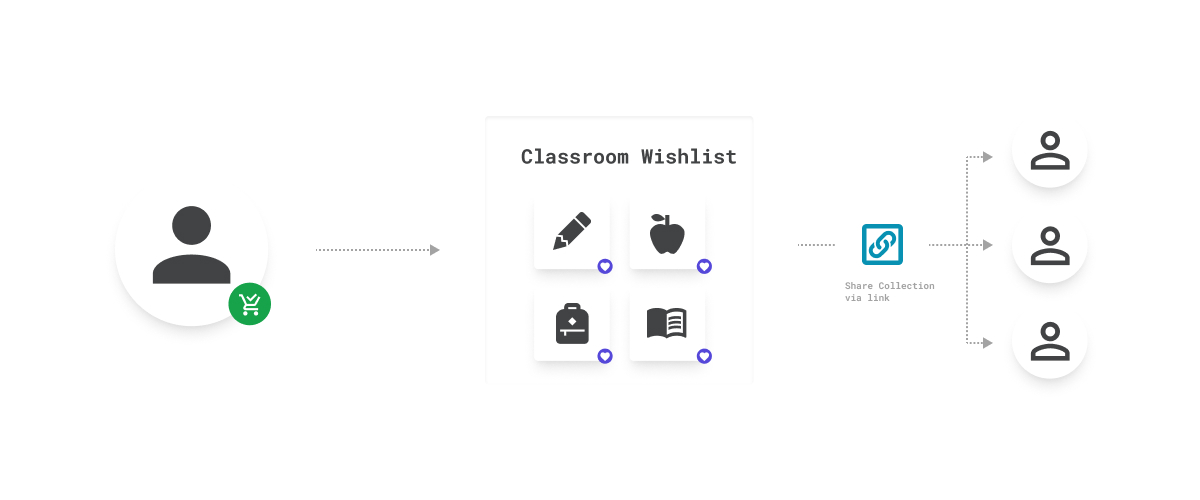 Gift Registry 
Engaged couples or new parents-to-be are often preparing a list of items they are hoping for as they navigate the new stage in their life ahead of them.  Wedding and Baby registries are quite common when it comes to gift-giving.  Create a Product Collection with AccessLevel:Public to make a list of products eligible for anyone to see.  Having a Public Product Collection means anyone can search for, find, and purchase from your list.   
For registries, consider using Product Collection xp to add data such as Name of Recipients, Date of event, or City.  Also, use xp to track the quantity requested for each ProductCollectionEntry and which ones have been purchased.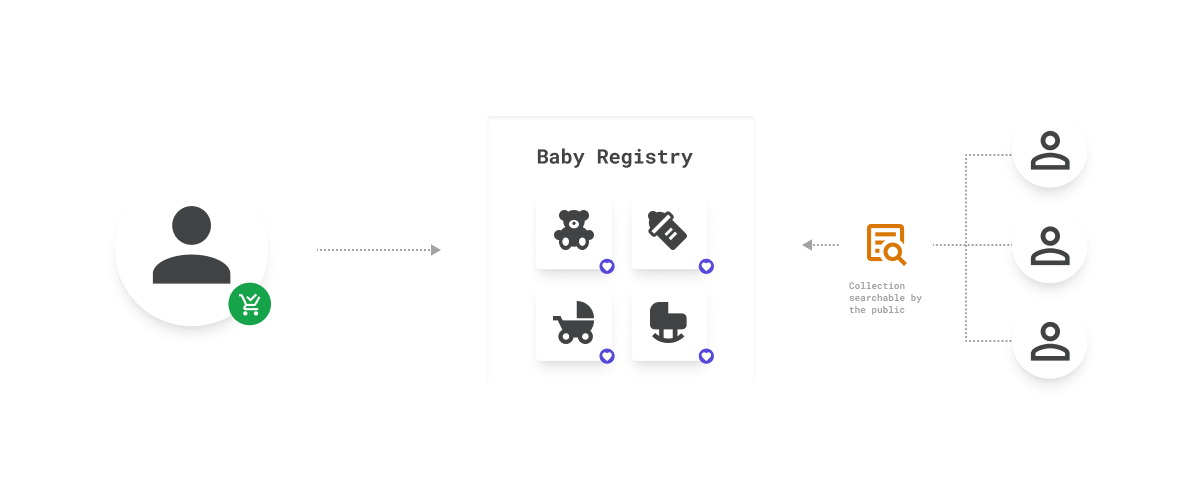 Buying Lists 
Imagine you are a District Manager of a restaurant chain with many locations.  Each month, new marketing materials (menus, signage, disposable coasters, etc.) are released that all the restaurants in your district must order.  Now, you can create a Product Collection containing all of the new items and then share the collection with the person who does the purchasing for each restaurant, relieving them from having to search an entire catalog to figure out what to order.  Use a Private or Shareable AccessLevel to accomplish this.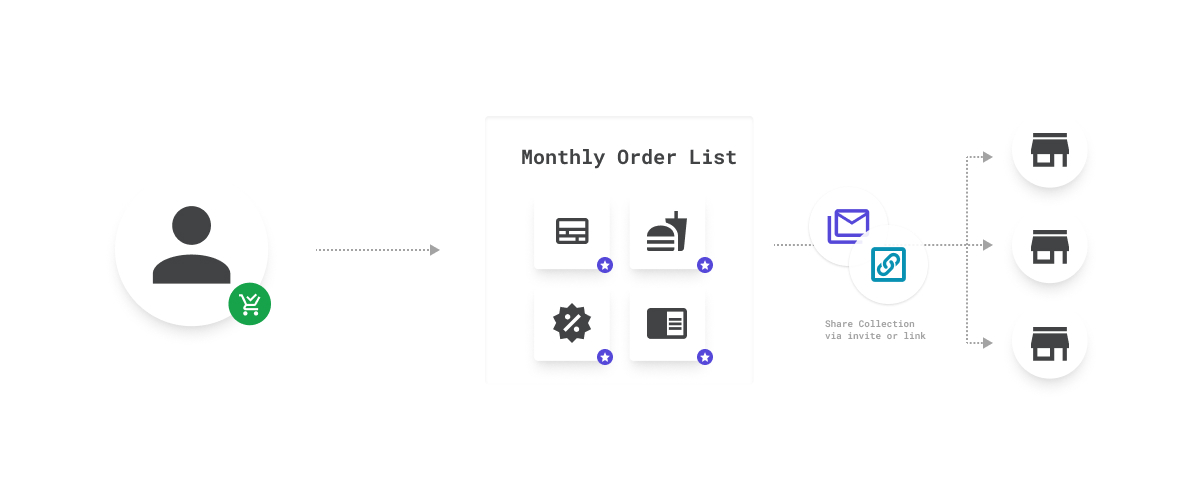 We can't wait to see what you build using Product Collections!  For more technical documentation on Product Collections, check out this article.  
---
Was this page helpful? Give it a bravo!